The Internet has made it possible for people to run a home business without having to leave their homes. This is because there are now ways to sell products and services over the Internet. However, home business can be operated offline too.
Increased Home Business Opportunities
Many successful businesses we know today have been started as a home business. For example, Apple Inc was established by Steve Jobs, Steve Wozniak and Ronald Wayne in Los Altos, California 1976. The company started its business at the garage of parents of Steve Jobs.
But what is home business? Referring to Wikipedia "A home business (or "home-based business" or "HBB") is a small business that operates from the business owner's home office. In addition to location, home businesses are usually defined by having a very small number of employees, usually all immediate family of the business owner, in which case it is also a family business. Home businesses generally lack shop frontage, customer parking and street advertising signs."
The Internet and Word Wide Web went live on the 6th of August 1991. Most people – including me – didn't even know what had happened and they were not aware of the Internet at all.
Then Google was established and it was connected to the internet in August 1996. All this and a lot of IT technology invented before and afterwards has made easy use of the Internet possible.
Home business opportunities have increased enormously after the Internet and the World Wide Web were established. Today there are several ways you can set up home business: web design, SEO, social media marketing, pay-per-click advertising, ecommerce, trading, affiliate marketing, ebook publishing, blogging, coaching , consulting etc.
On the other hand, business you start at home can be offline too. It can be like traditional brick and mortar business but you operate from home. For example, catering home business is an example of this idea.
Why Run A Home Business?
Home business can utilize the Internet and by this way it presents online home business. On the other hand, it can be offline too. However, many so called brick and mortar businesses have transferred their businesses online or at least started to use online marketing channels to get leads and customers.
Below you can find pros and cons, if you like to run a home business.
Pros
No need to pay for an office rental
No need to commute so you save time and money
Flexible working hours
No distractions and noise as there are at a workplace
Smaller risk because you don't need much money at the start
Working from home can help you save money on tax
Cons
It can be difficult to keep work and home-life separate
There can be a lack of contact with other people and businesses
Long working hours can form
The 5 Core Elements of Business
There are 5 core elements in every business. Even your home business must fulfill these requirements in order to be successful. These elements are connected and they impact and follow to each other.
Creating Value: Finding out what people need or want and then creating it
Marketing: Attracting attention and building demand for what you have created
Sales: Turning leads into paying customers
Delivery of Value: Keeping your promise i.e. providing customers what you have promised and ensuring customer satisfaction
Cash Flow: When revenue exceeds expenditure, this creates positive cash flow. Then you can finance your business in a better way.
Microbusiness Statistics in Europe 2021
There are no statistics about home businesses in Europe. However, there are regarding microenterprises or microbusinesses. In fact, these two terms mean the same.
Microbusiness is a small business which employs 0-9 people, so home business falls into this category. There is a chart below showing microenterprises in the non-financial business economy of the European Union (EU) in 2021 by country.
Microenterprises in the European Union by Country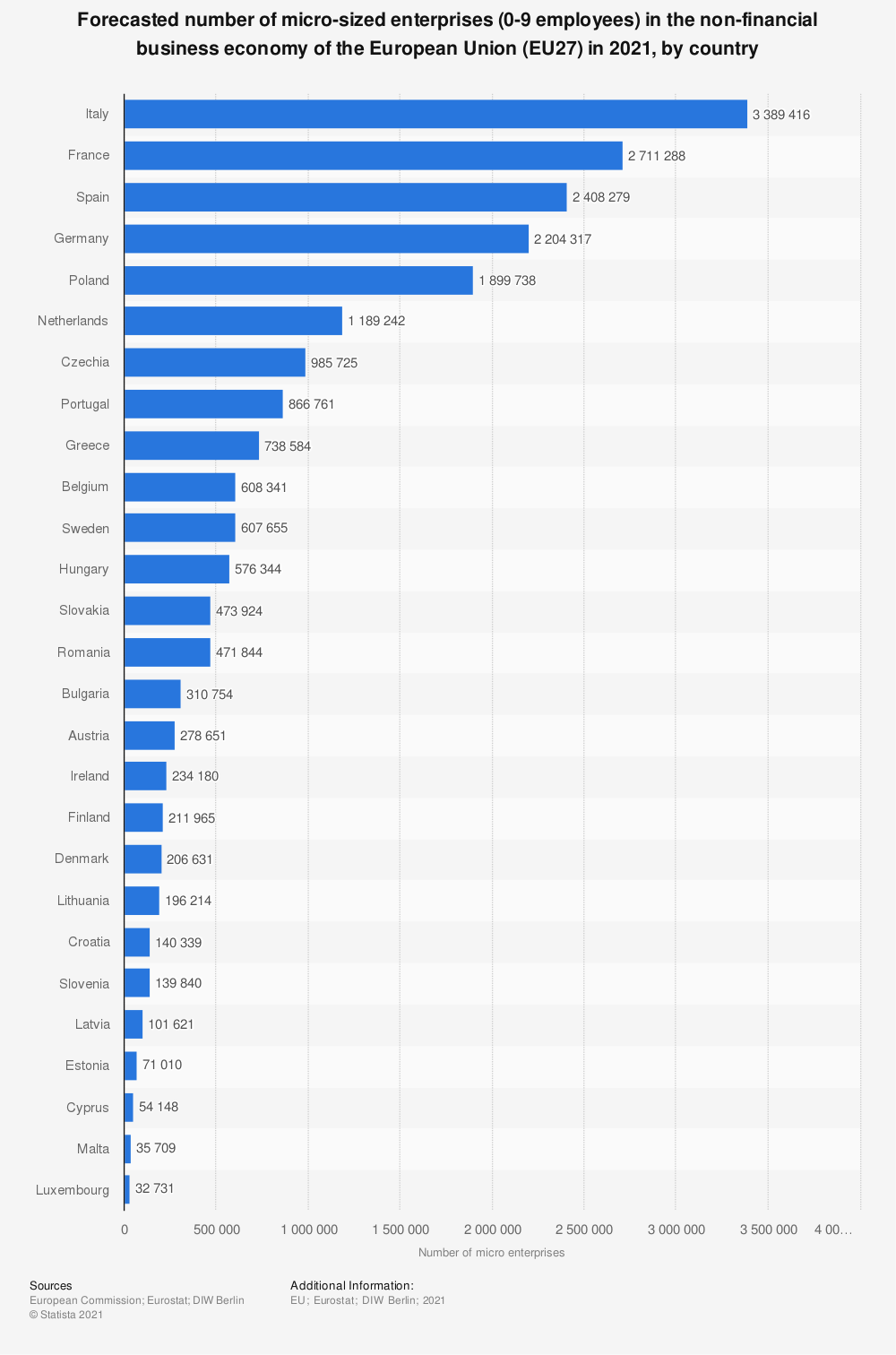 (Source: Statista, 2022)
The number of microenterprises is quite much correlated with population of a country. However, there seems to be exception for this interdependency. For example, Italy has the biggest number of microenterprises with 3.4 million although its population is the fourth biggest with 60.5 million in the European Union.
On the other hand, Germany has the biggest number of population with 83.8 million in the European Union but despite of this the country has the fourth biggest number of microenterprises with 2.2 million.
Microenterprises in the European Union by Sector
On the other hand, there is another chart below which shows microenterprises in the non-financial business economy of the European Union (EU) in 2021 by sector.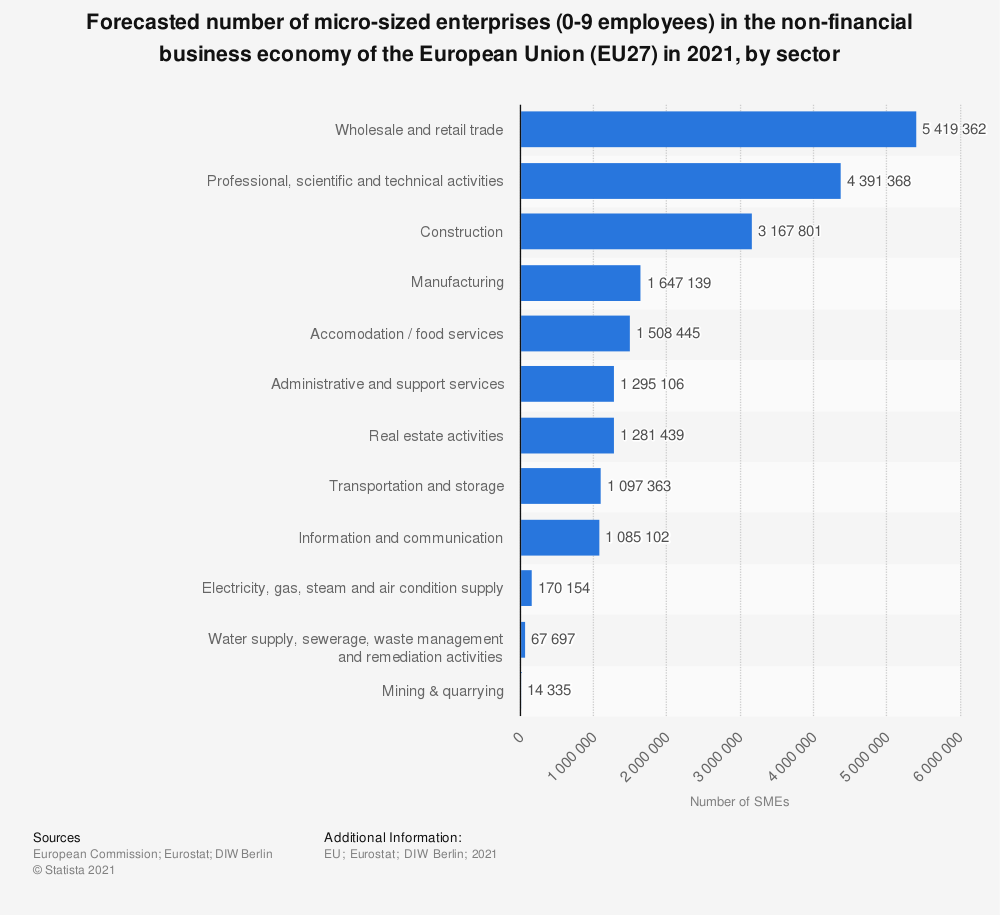 (Source: Statista, 2022)
Wholesale and retail trade sector has the biggest number of microenterprises with 5.4 million. Professional, scientific and technical services has the second-largest number of microbusinesses with 4.4 million. Construction is the third-largest sector with 3.2 million.
After this, manufacturing, accommodation and food services, administrative and support services, real estate activities, transportation and storage, information and communication sectors have quite much the same magnitude of microbusinesses.
Finally, electricity, gas, steam and air condition supply sector, water supply, sewerage, waste management and remediation activities sector and mining and quarrying sector form the smallest numbers of microbusinesses as the above figure shows.
Home Business Statistics in the US
According to Fundera by NerdWallet, the following statistics characterizes home businesses in the US:
About half in other words 50% of all small businesses are home businesses in the US
There are about 15 million home businesses in the US
Roughly 60% of home businesses are "non-employer" businesses
Sixty-nine percent (69%) of startups are home businesses
The information and construction sectors are more likely to be home businesses than other
Women are more probable to become home business entrepreneurs than men
Around $9.5 billion was claimed in home office expenses in 2014
About 57.1% of home businesses generated revenue less than $25,000
Roughly 44% of home business owners started their business with $5,000 or less
The Key Trends In Small Business 2022
The following 16 key trends in small business this year have been identified by Forbes. They are driving forces so also people who like to start and run a home business need to be aware of how these things develop. The following list below have been compiled from 16 members of Forbes Coaches Council. The members discuss the key trends they believe will impact on small businesses the most in 2022.
1. Emotional Intelligence And Empathy
Emotional transparency and modeling emotional intelligence are key. Empathy is no longer a luxury but a powerful skill for normalizing life and work challenges. You don't have to know or share the whole story of an employee's situation (or yours), but recognizing moods or behaviors and addressing them with care is appreciated. Adopt the motto: "If we ask, 'How are you doing?' we really want to know." – Patrick Williams, Transformational Living
2. Influencer Marketing On Social Media
One trend small businesses should know about if they don't already is the power of influencer marketing. Online platforms and social media channels such as Instagram and TikTok can help small businesses tell their stories to drive awareness and excitement. Influencers both large and small (micro-influencers) strengthen the story by providing relevance and endorsements. – Shannon Finn Connell, Capo Initiative
3. Big Business Systems And Processes
To find success in 2022, it's imperative that small businesses start taking on big business systems and processes. What I mean by this is that small businesses need to set up toll-free numbers, interactive voice response systems and automations, and structure their businesses as if they are much larger than they are. This will be crucial to their success. – Carlos Then, Mr Then Consulting LLC
4. Expanded Recruiting Efforts
With the world being more connected than ever and more and more people choosing remote work locations around the world, companies will have the ability to expand their recruiting efforts to be more far-reaching than in the past. Organizations who have deliberately designed their culture with clear purpose, values and norms will be more successful in attracting the right talent in a tight labor market. – Angela Morrill, Angela Morrill Leadership & Life Coaching
5. Family-First Workplace Values 
Many people have reassessed what they value in life over the last year or so, and this has led to a family-first movement. That means business owners need to create a people-first workplace, or risk losing their best team members. Small-business owners need to create a set of workplace values with their teams and ensure that managers, especially, lead with those values every day. – Alex Draper
6. Networking With Business Owners
Don't miss the biggest trend of 2022: networking! Instead of growing alone, small-business owners can multiply their efforts exponentially by connecting with other business owners. Networking helps you gain business lead referrals, hear new market perspectives, learn from other's experiences, sharpen your game and your pitch, and team up and form relationships that inspire and fuel each other's growth. Do it reciprocally. – Anne Phey, Leadership Coaching School
7. The Efficiency Of Digital Marketing
Small-business owners should accept that digital marketing is here to stay. While digital marketing may not continue to largely replace in-person profile building, as it has during the pandemic, its cost- and time-efficiency can no longer be ignored. Harness those benefits to reach a broad audience consistently.p[ – Precious Williams Owodunni, Mountaintop Consulting
8. Digital And Cloud Technologies
Many small businesses do not have a strong digital presence. Success in the next ten years will be driven by your ability to use and leverage the digital and cloud technologies in use today, and your willingness to stay on top of whatever technologies your customers are using. Today, it is Slack, Teams and Twitter. Who knows what it will be in three years? – Bill Berman, Berman Leadership Development
9. Agile Service Delivery And Product Development
The ability to remain agile in service delivery and product development for clients will give you an advantage by helping to establish a personal brand with a recognized competitive advantage. Creating a diversity of solutions and understanding the impact of these solutions for different clients will anchor your small business to be able to offer variety, creativity and strategic innovation in any market. – Reena Khullar Sharma, Agilis Executive Consulting
10. Coaching And Mentoring Of Employees
To maintain a happy workforce and improve retention, small businesses will need to find creative, innovative ways to attract and retain talent. There's a trend to provide employees with coaching or mentoring, and that's far more valuable to a person's development than a pingpong table! – Sian Lenegan, Work With Sian
11. Synchronous And Asynchronous Video
Synchronous and asynchronous video will be key. Embrace video. The last 18 months have significantly accelerated the use of video to prospect, sell, serve and meet with people across the globe. Everyone has a phone, tablet or laptop within arm's reach, and we are just a click away from engagement—video is the new "new" thing, and it's popularity will only increase. There are lots of free platforms available. Make a start. – Antonio Garrido, Absolute Sales Development
12. Hybrid Workplaces
Having a hybrid workplace where employees can choose their optimal work schedule as well as whether to be remote or in-person will be a trend for the future as security and insecurity are balanced with a healthy home and working environment. Employers will need to embrace the multi-generational employees who have a different value system and life-learned skill sets. – Sandra Hill, New Horizen Coaching & Professional Growth Advancement
13. Mental Health In The Workplace
The 2022 trend that every small-business owner should know about is that mental health in the workplace matters, no matter the size of its workforce. Supply chain crunches, lack of staffing, remote work and the blur of the work-life intersection are deepening employee stress at a record rate. Implementing policies that address this trend will increase engagement, reduce turnover, and improve productivity. – Cathy Lanzalaco, Inspire Careers LLC
14. Strategic Inventory Management
Supply chain shortages are not going away. Delays in getting raw materials and delivering finished products are going to be longer than expected. Planning, adjusting and strategizing your inventory management is critical. Manufacturers look to increase raw materials, as the cost of not having a product is higher. If your company isn't suffering directly, your customers are feeling the stress. – Rick Itzkowich, Vistage Worldwide, Inc.
15. Maximum Utilization Of Google 
Maximum utilization of Google is the game-changer for 2022. This includes Google My Business, local services, ads and search engine optimization. Small-business owners must get on board with knowing, using and understanding Google lead generation. – Jacquelyn Van Tuyl, Jacquelyn Van Tuyl International
16. Personal Branding
Mastering not only business branding but also personal branding will be key. I find that small- and medium-business owners kind of hide behind the business brand and choose not to show who they are or show themselves as being vulnerable and human. The only loyalty you can get as an owner is through the emotional engagement that comes through your authenticity and being genuine, showing the human side behind your business and showcasing you and your employees. – Sahar Andrade, MB.BCh, Sahar Consulting, LL
Start And Run A Home Business: 45 Profitable Ideas 
Here you can find 45 profitable online and offline business ideas you can start today. They will be viable also in the future, so you can run a home business to success. What is the best home business idea online or offline is up to you.
Buy products in bulk and sell them online
Sell homemade products
Start a dropshipping store
Start a print-on-demand business
Productize your service or expertise
Buy an existing ecommerce business
Start a subscription-box business
Turn your pet into an influencer
Sell unwanted items
Play video games
Sell NFTs
Become a virtual event planner
Launch a photography business
Establish a beauty business
Start an affiliate marketing business
Start a day care
Sell stuff on marketplaces
Become a social media manager
Become a virtual personal trainer
Offer bookkeeping services
Design websites
Start a dog grooming business
Automated digital marketing and customer service (chatbots)
Become virtual assistant
Create online course/elearning
Start blogging and content marketing
Consultancy business via Zoom or Skype
Start app development
Establish 3D printing shop
Create Migration-as-a-Service (MaaS)
Sell smartphone repair services
Create kids friendly apps
Start a wellness and natural health business
Found an accounting firm
Become a web design consultant
Establish a SEO firm
Start social media consulting
Create an outsourcing agency
Start automated translating services
Become a freelancer
Commence Instagram consulting
Establish a marriage counseling and therapy
Start a mobile marketing consulting
Create testing services
Have a business using drones
Conclusion
Today it is easier to start and run a home business than what it was in the past. Development of the Internet and the World Wide Web have increased online business opportunities tremendously. On the other hand, you can run a home business as the traditional offline business too.
However, the most important thing in every business is that there are the 5 core elements in place. By this way your business can be successful. Every part supports each other and they form an entity, machine which runs well.
Small business owners must be aware of what happens in this world. It is a good idea to know what kind of shifts happen in an industry where for example your home business operates. The same business rules apply in home business as in brick and mortar business, there is no doubt.