It was 2007 when I joined Facebook by invitation. The inviter was Charles Heflin who also instructed me to create an online community and game group on Facebook. This group attracted those users who were interested in playing online games. I was able to grow this group easily and finally there were hundreds of members. So I can say what is a group on Facebook, how to create one and work for the group. Naturally, Facebook has changed since those days.
Today, the most popular and at the same time the biggest social media platform is Facebook. There are around 2.8 billion monthly active users on Facebook globally. This is one of the reasons why this platform is attractive for creating and building an online community. The following chart illustrates the growth of the monthly user base from 2008 to 2020.
Monthly Active Facebook Users Globally In 2008-2020

(Source: Statista, February 2, 2021)
It has been a steady growth trend with the number of users during the last 12 years. In addition, it is easy to see that the current upward trend will continue also in the future.
The biggest part of the users come from India (320 million), United States (190 million), Indonesia (140 million), Brazil (130 million), Mexico (93 million), Philippines (83 million), Vietnam (68 million), Thailand (51 million), Egypt (45 million), Bangladesh (41 million), Pakistan (40 million), United Kingdom (38 million), Turkey (38 million), Colombia (36 million), France (33 million), Argentina (31 million), Italy (31 million), Germany (29 million), Nigeria (29 million) and Myanmar (27 million) (Source: Statista, February 9 2021).
People use Facebook for connecting with friends, acquaintances, colleagues and even people they don't know. On this platform they can share own stories, opinions, thoughts, photos, images, videos, news and other articles. However, it can happen and I believe this is quite common that only a few people if any like or share your posts.
The problem is that people are not necessarily interested in those things you are. In addition, your Facebook friends can represent other culture and country where people are interested in different topics. In consequence of this, your friends on Facebook don't resonate with your posts. For this reason Facebook has developed possibility to create an online community through Facebook groups.
Building a Meaningful Online Community
On the 22nd of June 2017, CEO Mark Zuckerberg announced a new and redefined mission statement at Facebook Communities Summit in Chicago: "Give people the power to build community and bring the world closer together."
At this summit Facebook also revealed new group management tools. In addition, Zuckerberg said that they will turn the new mission statement into a goal: "We want to help 1 billion people join meaningful communities. If we can do this it will not only reverse the whole decline in community membership we've seen around the world… but it will also strengthen our social fabric and bring the world closer together."
According to Zuckerberg and Facebook management, Facebook likes to help individuals to create a world where individuals have sense of purpose. On the other hand, social media is seen as the most positive force for a chance to do good. In the current world, this kind of views and goals are valuable.
What Is A Group On Facebook
Facebook defines its groups shortly: "Groups are a place to communicate about shared interests with certain people. You can create a group for anything – your family reunion, your after-work sports team or your book club."
There are 1.8 billion people who use different kind of Facebook groups. We can say there exists tens of millions groups on Facebook. Local Facebook group memberships have grown over threefold from February to May in 2020. This is mainly related to the outbreak of pandemic.
Below you can find an amended list of the 25 biggest groups on Facebook. These figures correlate with the numbers presented above about the countries where there are most monthly active users.
25 Biggest Facebook Groups In 2021 (amended figures in millions)
(Source: OneUp Blog, January 6, 2021)
As you can see, the biggest Facebook groups have been build for promoting shared interest, hobby or some common good. In fact, these and other smaller online communities fulfill the need of people to belong to something bigger they are themselves. Online community brings together individuals who like to share their interests or experiences in different fields of life.
Referring to well-known internet marketer Seth Godin: "the internet has ended mass marketing and revived a human social unit from the distant past – tribes. Founded on shared ideas and values, tribes give ordinary people the power to lead and make big change". This quote describes perfectly the essence of online communities.
On the other hand, there are Facebook groups built for business. These groups gather together people who have become familiar with a product or service by purchasing it previously. An example of working and profitable Facebook group for business is Apple iPhone. This group has 302,000 members. All the members are very loyal to this brand.  Another example is Yahoo which has built big communities around their business.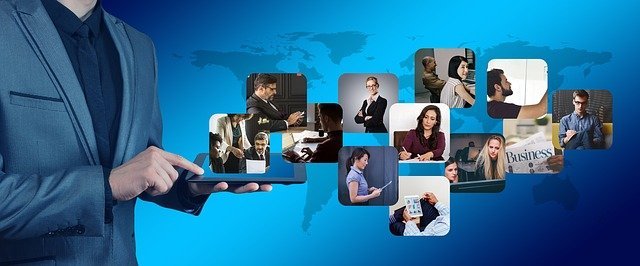 How To Utilize Facebook Group Community
There are many ways a single business can utilize its online community. Facebook groups form a good platform for business which likes to serve well its customers. We can find at least 5 different ways how a small business can benefit by building an online community on Facebook. Next we go through these resources.
1. Connection
Facebook group can work well as an online community for people who have purchased a product or service previously. This is a good way to connect to other members who have done the same thing. Members can share their ideas and experiences within the group.
2. Customer Service
It is possible to reduce workload in customer service by establishing and having a Facebook group. This can significantly decrease the number of customer service phone calls and emails. Naturally the prerequisite for this is the fact that the customers are aware that they have a well working Facebook group at their disposal.
3. Feedback
When a small business likes to get feedback relating to its products or services, Facebook group is a useful tool for this purpose. Business owner can arrange for example online surveys that help understand customers in a better way. Feedback can be used in product or service development.
4. Leads Conversion
People who have not bought anything yet are potential customers. These are the leads for a small business. It depends on the nature of business and Facebook privacy settings when potential customers are allowed to join a group. It can be that people who have signed up for a free digital product or something else have given them a chance to join Facebook group. In this case online community can be used for converting this lead to a paid customer by creating sales offers within the group.
5. Recruitment
As Facebook group's member number grows, so does the need of additional people who take care of it. It is handy to use this online community itself to find and recruit one or more group admins. This reduces the workload of the group founder and new group admins can reply to presented questions and give advice to members. In addition, there is a chance to recruit brand ambassadors who can promote business, increase its awareness and sales.
Why Is It Beneficial to Have a Facebook Group?
When a small business establishes a Facebook group, there are some gains relating to its existence. Referring to the five factors mentioned above, we can say that Facebook group can improve business functionalities: communication, customer service, feedback, leads conversion and recruitment. All these mean better business in terms of customer reach.
The improved business functionalities in turn increase sales and revenue. Facebook group enhances know, like and trust factors among potential and current customers. It is a well-known fact that people buy when they know, like and trust in business they communicate and are connected with.
There is a lot of noise and competition in any market place. Facebook group is a powerful way to create authority status for small business owner. It provides a chance to stand out as an expert and get people convinced that you, as a business owner, are the right choice.
Facebook group enables you to get feedback from potential and current customers. By this way you know what the members want. Online community like Facebook group gives an opportunity to get close to your audience and find out what they want. Then you can sell to them what they want.
A profitable Facebook group grows organically. There is evidence that online community's value as a method of promoting a product or service, exceeds the cost of advertising over time. For this reason we can say that Facebook group offers a free channel for marketing and advertising. So it can reduce advertising costs.
How To Create Group On Facebook
After you have created a Facebook group, it can happen that you encounter some problems. These can occur due to the following issues:
Not started right. Usually this problem arises because you have no clear idea why you have created the group? What purpose does it serve?
No enough engagement. This issue is the result of adding the wrong people and not proceeding in the correct way.
No clear leadership. Group founder has no idea how to lead his/her group for success.
The best way to avoid these mistakes when creating and building a Facebook group is to learn from a person who is expert in building and monetising profitable Facebook groups. This person is Claire Perry-Louise who is a Community Building Expert. Here it is worth to notice that the online community is the most important idea which holds your group together.
How To Start A FB Group
Claire Perry-Louise has earned her expert status as Community Building Expert. This is very rare, because nobody else teaches online community building. However, now I have this opportunity to introduce online video training by Claire.
There are 14 HD training videos available about How To Create Facebook Group Community. All of them can be found in the members area. Should you be hesitant, there is also free online training available. This free training instructs How to Set Up Your Facebook Group properly. Below you can find a short introduction video about the training.
In addition, there is useful content available in the members area. For example, each learning module provides downloadable summary in PDF. So you can review these teachings later, if you wish. I paid special attention to these summaries, so they provide specific and excellent content for learning. The content has been arranged into separate sections so that embracing this knowledge would be easier.
On the other hand, it is worth to notice that this video training is not like somebody giving a lecture. This online training is more like a workshop where you can learn a new skill in the very narrow field which we can also call niche. Because there is only one topic, you can learn it quickly and be expert in this specific field. When you apply the learning content into practise, you can successfully create group on Facebook.