I am Reima Petramaa and the founder of this online training portal – Netpreneur Club.
I decided to start blogging in order to make this website more live. In addition, there is a chance to provide valuable information relating to available online training and entrepreneurship.
This training is aimed at people who already have a small business or people who are planning to start their own business. In fact, the title of home page expresses the same thing; "Online Training for Established And Aspiring Entrepreneurs." So let's dive in and see what I have created and how these courses can help you.
Cyber Security Of This Online Training Portal
Next I shortly describe how cyber security has been taken into account at this online training portal.
When you design a website, one of the first things you have to do, is to decide what communication protocol to use? I ended up to HTTPS i.e. Hyper Text Transfer Protocol Secure. In this protocol traffic between server and user's browser is encrypted by using SSL/TLS method. This means that internet connection is secure.
It can be verified by the lock icon on the left hand side of a browser's address bar. HTTPS protocol provides security for example when a user is logged in to an insecure public wireless network such as Wi-Fi network at a cafe, restaurant, shopping centre etc. In addition, HTTPS protocol provides security for visitors who sign up to email newsletter or make a payment through PayPal or Stripe at this distance learning center. In fact, all these payment processing companies require HTTPS communication protocol.
PayPal complies with PCI DSS (Payment Card Industry Data Security Standard) and they have fraud prevention in place meaning PayPal monitors every transaction in real time. On the other hand, Stripe is also PCI DSS compliant by requiring HTTPS communication protocol for all services using TLS (SSL). Stripe has first-class security tools and practices in use to maintain bank level security.
Learning Website Design
It was a challenge for me to create this distance learning centre and take care of the learning website design as a side hustle. In addition, I wasn't familiar with the platform, OptimizePress 2.0, so it took some time to make it (today there is also OptimizePress 3.0 available). Firstly, I had to learn to use this web design platform. You don't need to know anything about coding languages like HTML or PHP. However, it can be helpful, if you know something about them. It also helps, if you are familiar with WordPress, because OptimizePress works on it. It has been designed for users who like to create membership sites, sales and landing pages etc.
The home page of Netpreneur Club looks quite nice but the most time and work took to design different kind of membership pages inside. The majority of them are restricted, which means only a member signed up to a course has access to it. Currently, this membership site consists of 81 different kind of pages. Luckily OptimizePress provides different page templates that you can modify to fit your needs and requirements. In addition, they have excellent training videos and technical support where you can turn to, should you encounter technical problems.
How does this online training portal look inside of the restricted access membership pages then? I can show an example of the first course module; Introduction of How to Become an Expert in Your Field. By the way, this module is provided also as a Free Trial. There is a video below showing the general design of these online training modules.
Distance Learning Videos
I use Vimeo for video hosting service. They provide a good quality service for reasonable price. In addition, Vimeo's video hosting platform is easy to use with appropriate privacy settings and statistics. As far as these distance learning videos are concerned, the learning modules are based on professional level videos. This means well filmed and edited video content, good sound and video image quality.
The highlighted module of this post is Introduction of How to Become an Expert in Your Field course. Each of these training modules has video length of about 1 hour. So for example this course has 4 online training modules totalling for over 4 hours of online video training. In addition, you can download a PDF summary in each module so it's possible to review the course content later.
For example this course – How to Become an Expert in Your Niche – has been filmed at real training room environment. It conveys a good and authentic training event. The course trainer is Richard McMunn who has expertise in this field. We can well say he is a self-made man and knows the subject matter thoroughly. In other words, Richard teaches you those actions and steps you have to take, if you like to create recognized expert and authority status for your business.
Richard McMunn has created loads of training content for people who are considering different career alternatives in the UK. His website How2Become presents careers and educational information and development services. All his content is delivered digitally through the internet, so we can say he is a living example of a successful entrepreneur. In order to verify the before-mentioned, we know that Richard has made over £7 million with his online business.
Why Online Training?
The main benefit of online training is that you can take a course at home or wherever you are. You can view content through your desktop computer, laptop, tablet or smartphone. In addition, you can decide when it's suitable time for you to take the course at own pace.
Currently, we are living very peculiar time characterized by the pandemic. When I am writing this post there are Level 5 restrictions in Ireland. This means quite complete lockdown of the society till the 5 of March 2021. Lately they have considered to extend the Level 5 restrictions to Easter and maybe even till the beginning of May 2021. In the current situation this is highly likely.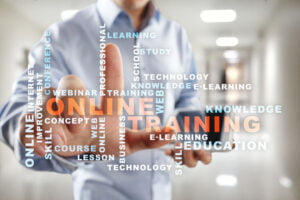 When different kinds of social gatherings are prohibited, there is no chance to go to work or take an ordinary course or workshop at a public or private facility. People have to stay at home during the lockdown. You can't commute to work or to training premises. This results in some cost savings when you don't need to buy petrol for your car or pay for a bus or for a train journey. Luckily we have computers and the internet that make remote working and learning possible nowadays.
In 2020 I worked for N3 Results Ireland Ltd when I operated as a member of Microsoft Nordic Team. We had a chance to work remotely from home a part of the week when we wished to do so. Then this pandemic hit and we were compelled to work from home. However, it was nice to notice how easy it was to arrange and have online meetings with the team and with customers. In addition to this, we had an opportunity to get online training through live webinars and recorded videos. In my opinion, training event at a computer can be even better at home, if you have a chance to exclude all the distractions.
Online Training Experience Enhanced by Multimedia
Today personal computers and smartphones are powerful devices, because we can use them in versatile ways. Online training experience can be enhanced by multimedia. This is what distance learning center provides for people. Referring to Wikipedia: "Multimedia is a form of communication that combines different content forms such as text, audio, images, animations, or video into a single presentation…..Popular examples of multimedia include video podcasts, audio slideshows, animated shows, and movies. Multimedia can be recorded for playback on computers, laptops, smartphones, and other electronic devices, either on demand or in real time (streaming)."
So we have these powerful devices at home and with us wherever we go. When you have a chance to exclude all the distractions, I would say that learning experience at home is pleasant. One reason for this is the fact that you can have better concentration on a subject matter. Actually, I noticed this phenomena when the lockdown started and we had to work from home. I was able to concentrate on work and training in a better way.
Trends in Online Training Market
One of the recent studies show that the online training market is expected to experience significant growth in the next 5 years. Current lockdown has interrupted normal working life and educational activities all over the world. In consequence of this, demand for online training portals will grow steadily.
New technology will play a major role in transforming the online training industry. There are 6 major technological trends that will change distance learning experience:
Virtual Reality
Gamification
Artificial Intelligence
Adaptive Technology
Microlearning
Mobile Learning
Virtual reality already represents significant share in online training. With help of this technology it's possible to create spatial learning experience like you would be in a real place.
Gamification is done through many different applications and websites. Idea is to create fun and interactive distance learning experience.
Artificial intelligence help teachers through automating administrative tasks and providing supplemental training material.
Adaptive technology in turn takes different needs of students into account by giving them a chance to learn at own pace.
Microlearning consists of short lessons that concentrate on one special subject and helps with learning special skills. Their modules are like short training videos.
Mobile learning allows students to access training material through their smartphones.
How These Online Training Courses Can Help You?
Online training courses can have many positive impacts on to a learner. As far as I am concerned, I have noticed that training improves self-confidence in a subject matter. In other words, you become certain of how to perform some task properly in order to get wished result and reach your goal.
All people who receive education and training intend to utilize it right after. People like to find good use for their obtained knowledge. There is no reason to get new knowledge, if it's not applied to practise. The idea is to achieve certain result or goal with help of knowledge, expertise and skills that a course provides.
Let's think about person who likes to establish professional recognition in his/her field of expertise. What do you think, how this person wishes other people to perceive him or her? What he/she can do to improve the recognition, especially, if this person is a start-up entrepreneur?
Naturally, qualifications, work experience and other skills are important. When you apply for a job, employer gets your CV and by this way knows your background. Situation is different when you like to establish yourself as an entrepreneur. Your potential customers, in other words your audience, doesn't usually know anything about you. They don't know your education, specialization and previous experience and the fact that you have expertise in your field.
Discover How To Become An Influencer
There are certain ways you can change and increase people's perception about you. There are online and offline means to improve this common awareness of your expertise.  One of our courses called How to Become an Expert in Your Field teaches what you can do to alter people's perception about you. It teaches several online and offline ways to grow your influence.
This course is aimed at people who aspire to become entrepreneurs or who already are business owners like the following ones:
Business and website owners who want to dominate their industry and increase sales
Coaches, mentors and consultants who want to generate more leads and sales
Anyone who has underlying interest in what it takes to get to the top of industry
I have written a new Kindle ebook: Prime Guide For How To Become An Influencer. This ebook shows what you as an entrepreneur can do to improve trustworthiness and credibility. Actually these two factors are important in business success because for example buying decisions of customers are based on trust. This guide shows 12 free online and offline ways to position yourself as a business authority and influencer. Sign up below and get instant access to this prime guide.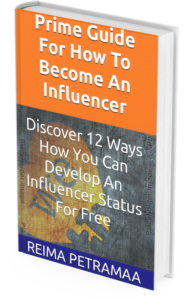 Prime Guide For How To Become An Influencer
Enter your first name and email address below.
We value your privacy and will never spam you